Skip to main content
PURE.
TRADITIONS.
SUMMER CONTEST
We recently asked our social media followers to share their Pursuit Boats memories and traditions. The contest was a success and we offer a special thanks to all who entered!
Congratulations to Rob and Heidi Curran, the winner of the Summer 2020 #PBTraditions Contest and a prize package filled with Pursuit swag!
PRIZES
Pursuit Zippered Cotton Tote
2 Pursuit Beach towels
2 Pursuit Tervis Tumblers
2 Pursuit Hats
2 Pursuit Neck Gators
4 Pursuit Can Koozies
---
CONGRATULATIONS TO OUR WINNERS!
"Our growing family uses our C180 almost everyday here in Milwaukee.
We got engaged on this beach and continue to make boating part of our family tradition!"

Rob and Heidi Curran
---
We also congratulate our runner ups!
"This is our new-to-us '14 385 OS. We loved it so much, we had the shirts made before we owned the boat! This was the send-off cruise before I took her 120 miles offshore to Veatch Canyon for 6 yellowfin, 1 albacore and 1 white marlin. What a fantastic trip, can't wait for the next adventure!"

Tim Sherry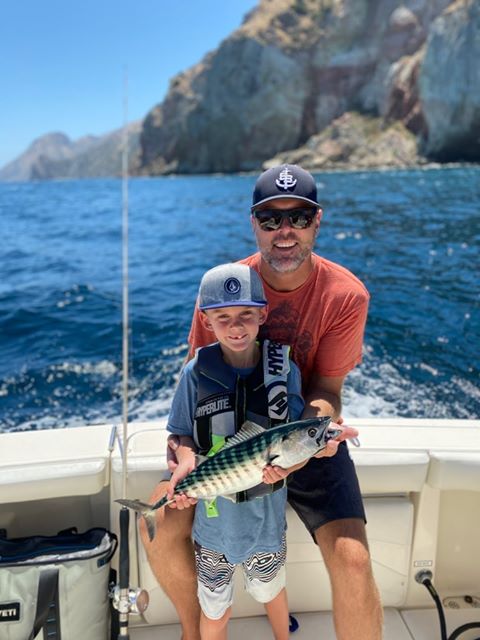 #PBTraditions fishing with the boys...double hook up. Front side Catalina Island on the Pursuit 3000 Express."

Rob Frizzelle
"Nautically distancing off Provincetown, MA in our S 328. Wow"

Andy Orth
"I cannot share my Pursuit Boat traditions because my boyfriend Chris and I just accomplished our goal of buying our Pursuit OS325 on August 14, 2020. What I can share is my excitement to make many memories, traditions and adventures on our boat with our family and friends. We are so blessed to become owners of such a beautiful boat."

Misty Bartlett
---
This website uses cookies to ensure you get the best experience on our website.
GOT IT!

© 2020 PURSUIT BOATS. All rights reserved.