Skip to main content
The DC 326 – is a popular addition to Pursuit's innovative and award-winning Dual Console Boat family - builds on the reputation of one of their most popular boats, the DC 325.
The DC 326 features a fully integrated fiberglass hardtop with tempered glass windshield, thoughtfully designed storage and starboard hull side door - all with the distinctive aesthetic of Pursuit's Dual Console Boat series.
A port side wrap-around lounge, rotating helm seat, forward bow and foldaway cockpit seating offer plenty of room for friends, family and crew while rod holders, recirculating livewell and dedicated tackle storage are ready to fish.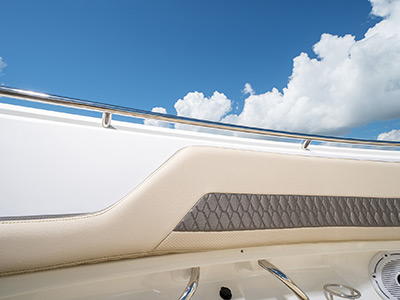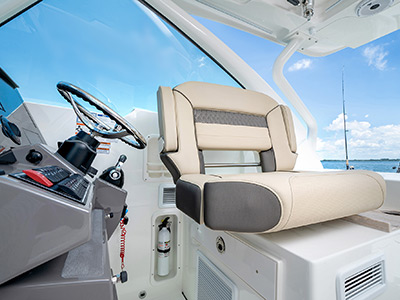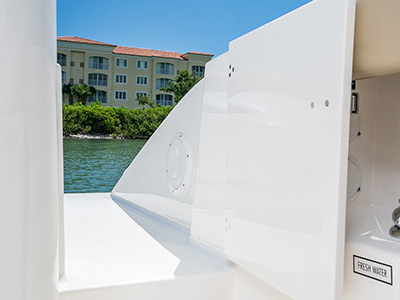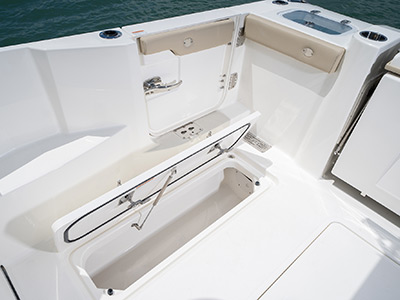 Printed Materials
Performance
---
Nothing better than a Pursuit
09/24/2021
I love the versatility of my boat with smooth cruising and it's very quiet Yamaha engines. My third Pursuit and I have never been disappointed! Thanks
TIM R.
Outstanding Customer Service
10/06/2021
Caribee Boat dealership is a pleasure to work with from the purchase to our first maintenance check. They follow up promptly and have a great attitude on the phone and in person. I would recommend this dealership to anyone looking to purchase a new or used boat.
Kenneth M.
Winged It
07/28/2022
Overall Very Impressed with the quality of the boat, the electronics are taking some time to get use to all the functions but having all the options is a good thing. The boat really does handle and ride very smoothly I'm also happy with the performance gets up on step quick witch is very Helton the area where we live Both my wife and I are Very Happy with our purchase of our 326DC Thanks for taking so much pride in your product Tim
TIMOTHY W.
Pursuit of Happiness
09/15/2021
Everything was seamless with the purchase of my Pursuit boat from the passion and product knowledge from our sales person Todd at Bosuns to in the water hand over from Captain JR. We are very happy with the Quality and reliability of our Pursuit boat and hope to have many years of family fun. Thank You
JAMES K.
2023 DC 326
08/12/2022
My second Pursuit. The best fit and finish of this class of boat. Boats Unlimited(Dealer) and Pursuit are great to deal with. Plant tour was great too!
Mark G.
BOTTOMLINE
07/07/2022
AWESOME BOAT THE WHOLE FAMILY CAN ENJOY. GREAT DESIGN AND LAYOUT AND MOST IMPORTANT, SEAWORHTY AND SAFE!
Anonymous.
Bosuns Mashpee
11/06/2021
This is my 3rd boat I bought from Bosuns in Mashpee. Its always a pleasure to do business with them .
KEVIN O.
Great performing boat
10/17/2021
I have always heard good things about the quality of Pursuit boats and have been extremely pleased with the design and quality of the dual console I purchased. It was delivered in "full" working order and I've had no issues with it during my first year of ownership. It runs well, looks good and most important is a comfortable and very safe boat to operate.
Charlie C.
Pursuit 326
10/31/2021
It was a Great experience from the beginning to the end Thanks to Legandary marina and to Bill for all your Patients and willingness to help my wife and I through this whole experience Tim
TIMOTHY W.
Pursuit embraces innovation, quality and style
01/19/2022
This is my second Pursuit DC. Love the boat and Blue Ocean has been great to work with. My new DC326 Accommodates our family well. It has performance and style together with comfortable, safe features for my grandchildren when aboard. Pursuit found the sweet spot with this boat!
Ronald H.
Happy with our Pursuit Boat
10/27/2021
So Happy with our new purchase of a DC 326. Bosun's Marine was outstanding and we are loving life as a new Pursuit owner
Gregory J.
Pursuit 326 DC
06/30/2021
We love our Pursuit 326DC. Great boat that can do so many different things. Having a great time, Fishing, Island Hopping and relaxing at the sand bar! Should have switched to Pursuit earlier!
Matthew W.
Pursuit DC 326 Pleasure Boat
06/08/2021
The DC 326 is an excellent boat for cruising, fishing and family. The seating, layout, ride and ease of boarding make this boat very enjoyable. The windshield integrated into the hardtop, A/C and heat, make for a very dry and comfortable ride in all types of weather. The Pursuit dealer made the sea trial and buying experience worry free, very professional and low pressure. The boat sells itself.
John S.
Best Turn Key Service
06/14/2021
Absolutely love the Pursuit DC326 and the team at Legendary made the entire process from beginning to end a pleasure. Look forward to many years of enjoyment and probably the upgrade in the future.
BENJAMIN W.
Stunning Vessel
07/11/2021
Everything my family wanted and more! Large enough and elegant enough to entertain family, friends, and clients while maintaining all the functionality of a well designed fishing boat. Details, details, details...that's all this boat is about and they've pretty much thought of everything.
Charles A.
We like our boat and our Dealer!
06/14/2022
Great handling, wonderful ride, plenty of room, and great to look at; our 326 Dual Console meets all of our needs for family,friends,and just the two of us!
Clyde C.
Honing in on perfection!
08/01/2022
The Pursuit 326DC is one of the most versatile dayboats on the market that our family affectionately refers to as the ultimate SUV on water. She is rugged, powerful, and big enough to take on foul weather & big seas but also small enough for one man operation and slipping into tight harbors for dining and shopping.
Peter M.
Pursuit 326DC is a fantastic all around boat
03/11/2023
The size and overalls features of the boat make it terrific for entertaining adults, kids, teenagers on a whole host of activities. It is well made and service support is excellent with my dealer (All Seasons Marine). It is great for fishing and water sports in addition to more "refined" activities. The boat is easy to operate on my own, especially given the Yamaha Joystick.
Anonymous.
DC 326 is the perfect all around boat
03/05/2023
We couldn't be happier with our DC326. It's the perfect boat for a day on the water with friends and family. If you just want to cruise the lake or go for a longer trip on Lake Michigan, the boat is very confident in rough water. The open bow is great and the sides are high to protect you from water spray. We also like how the front windows go all the way to the hard top. This really helps extend our boating season by keeping the cabin more comfortable.
Matt P.
Great Boat
11/02/2021
The entire team at Caribee made it easy with everything from ordering our new boat to splashing her into the water. We knew we wanted a Pursuit DC326 and she arrived nearly perfect! Caribee took care of the rest. We love this boat!
Michael V.
Awesome!!
08/27/2021
I bought a 2021 DC326 from Bosuns in Peabody, MA. Awesome experience and incredible boat. Quality and Fit and Finish is outstanding. Very happy with the boat and all the folks at Bosuns. Highly recommend the Pursuit brand! Thanks
SCHOFIELD C.
I'm in love with my boat.
06/29/2022
As a family boat or a fishing boat my DC 326 is versatile, elegant and functional. I couldn't be happier with the features. Look forward to every day of boating.
MICHAEL R.
Great day boat
02/19/2023
We enjoy taking family and friends on day trips. The boat keeps us dry and comfortable. It's a great entertaining boat and can handle the changing sea conditions well.
Anonymous.
World Class Support and Design
12/06/2021
Our Pursuit DC326 was our third boat in 18 months and first Pursuit trying to find the perfect match of style, design and performance. More importantly we were looking for a company to partner with, that when and if there were issues they would support us 100% without question. The team at Pursuit has met and exceeded our expectations. Thank you!
CHARLES H.
Great Boat and Delivery Experience
03/01/2023
Hard not to love a Pursuit, but the entire experience including the sales process and the delivery and orientation were great!
EDWARD N.
Rugged yet agile best in class hands down!
01/25/2022
We've owned many boats over the past 30 years and can confidently say Pursuit checks more boxes than any other manufacturer. Their boats are consistently built to high quality standards which has given us confidence to tackle unexpected foul weather while cruising the Great Lakes. Our 2021 Pursuit 326 DC is very versatile, which is important when dealing with a large family with many different boating interests spanning from fishing, day boating or sunset cruises. The ultimate on the water SUV!
Peter M.
Exceeding Expectations
03/11/2021
We purchased our new 2021 DC326 at the Ft Lauderdale boat show and took delivery in February and have not looked back! The communication from the associates at Pursuit during our build was incredible. Once delivered the delivery session on water with dealer was very good. The fit and finish is the best I have seen. The ease of learning all facets of the boat was amazing and all part of the Pursuit experience. This has definitely exceeded out expectation.
CHARLES H.
DC 326 2021
10/24/2022
We have had this boat for 18 months and could not be happier with the quality and design of this Pursuit DC 326. Fit and finish is phenomenal.
DAVID S.
Awesome Boat
04/26/2022
I've had our new DC326 for just a year now. It is a 2022 model. We absolutely love the boat. we mainly use it for cruising the ocean and typically in the winter months. We love the fact that the cabin is heated and air conditioned. It is so easy to maneuver in and out of the bays and docking. We would definitely recommend Pursuit to our boating friends .
STEPHEN W.
Pursuit 326DC
06/26/2022
A well made high quality boat that provides safety,, performance, and versatility.
GARY F.
Pursuit 326: best multi-purpose boat I have seen
07/04/2021
It's said that boats can only do one thing well- either fish, fun, speed or comfort. The Pursuit proves this to be a myth. Boat seats 10 adults no problem for a sunset cruise, cockpit is super dry and comfortable in any weather (get the heat and AC), and it fishes extremely well. Every feature is well thought out, and the fit and finish is top quality. I had been concerned about storage but there is plenty of it once you figure it out. Machinery and systems are clearly marked and accessible.
Brian F.
Previous
Next
L.O.A.
Beam
Hull Draft
(motors up)
(motors down)
2' 0"
(0.60 m)
2' 11"
(0.89 m)
*Clearance w/Hardtop
(from waterline)
Approx. Dry Weight
(twin F300 engines)
**Fuel Capacity
300 U.S. gallons
(1,136 L)
Fresh Water Capacity
Holding Tank Capacity
Max. Horsepower
Deadrise
20°
*Hardtop Clearance shown does not include options which could increase this height dimension. **Net tank capacity. The usable fuel capacity will be affected by several factors, including EPA-required fuel system components, temperature and loading of the boat. These factors will reduce the usable fuel capacity by approximately 10%
Specifications as well as standard and optional equipment are subject to change without notice. All measurements approximate. For more information and pricing, please contact your Pursuit dealer.
Effective date: July 1, 2022
HULL Features
Pursuit® Protection Plan:
5‐Year Hull and Deck Structural Warranty
5‐Year Blister Free Warranty
2‐Year Limited Warranty
Pursuit Fresh White Gelcoat
Hand Laminated Hull with Vinyl Ester Resin and Engineered Fabrics
5 Ply Resin Infused Composite Transom System with Patented Transom Reinforcement Grid
Infused Fiberglass Structural Grid System with Molded Finish and Integrated Bilge Water Management System
Foam Filled Structural Grid
Bronze Thru Hull Fittings Below Water Line
Chrome Over Bronze Thru Hull Fittings Below the 7 Degree Heel Line
Stainless Clad Composite Thru Hull Fittings Above the 7 Degree Heel Line
Bronze Garboard Drain
Trim Tabs, Lenco Electric with Auto-Retract
Bow Eye, 5/8" 316L Stainless Steel
Integrated Transom Platform Extensions Outboard of Engines
Boarding Ladder, 4-Step Telescopic, Mounted in Hull Platform
Anchor System, Integrally Molded Thru-Stem
Bow Thruster, 3.0 HP (2.2 kw) with Group 31 AGM Battery, Switch and Fuse
Dedicated Transducer Location
Forward Hull Compartmentation with One 1100 GPH Bilge Pump with Automatic Float Switch
DECK FEATURES
Hull and Deck Joint Mechanically Fastened
Rub Rail: High Density PVC with Solid 316L Stainless Steel Insert
Molded One Piece Deck and Cockpit Liner with Non-Skid Pattern Area
Flush Mounted Integral Anchor Locker with Fiberglass Lid including: Horizontal Anchor Windlass with Switch at Helm and Remote at Anchor Locker with Fresh and Raw Water Washdown
316L Stainless Steel through Stem Anchor Roller with 8" Mooring Cleat and Chain Binder
22lb Stainless Steel Plow Style Anchor, Self-Righting Shackle, 200' Rode (1/2" 8 Plait including 20' of ¼" G4 Chain)
LED Anchor Locker Light
Cleats, 316 Stainless Steel, 10" Pop Up (2) Stern, (4) Spring and (2) Bow
Molded Recessed Hatches with Flush Hinges, Gaskets and 316L Stainless Steel Latches and Overboard Drain Tracks
Molded Transom Walkthrough with Hinged Transom Door, 316L Stainless Steel Latch and Magnetic Catch
Self-Draining Cockpit with Bronze Ball Valve at Hull Side
Bow Grab Rail, 316L Stainless Steel
Transom Grab Rails, 316L Stainless Steel,(Port and Starboard)
Molded Non-Skid Steps in Splashwell for Athwartship Access
Pursuit Logos, Illuminating (Port and Starboard)
Navigation Lights, LED, 2 Mile
Opening Port Light with Screen and Stainless Steel Frame
COCKPIT FEATURES
Side Boarding Door (Starboard Side) with Removable/Storable Ladder
Custom Cockpit Upholstery with Dri-Fast Foam and Mesh Backing
Molded Forward Bow Seating with Flip-down Armrests and Insulated Storage Below
Port and Starboard Forward Coaming Boxes with Four (4) Drink Holder, Storage Keeper, 12V and USB Outlets, Mid-Level Lighting, Stereo Remote and (2) Speakers
Captain's Bench Seat with Swivel Base, Foldable Armrests, Fore and Aft Adjustments and Flip-up Bolster
Storage Drawer Below Helm Seat Pedestal
Molded Bridge Lounge Seating (Forward or Aft Facing) with Flip-down Armrest
Pursuit Cockpit JL Audio Entertainment System: 12V Bluetooth® Compatible Stereo System, JL Speakers (7 Total, 4 in Hardtop, 2 in Bow, and Subwoofer), Amplifi er and Zonal Remote in Bow
Molded Entertainment Center with Sink, Cold Water Faucet, Trash Can, Drink Holders, Cutting Board and Hinged Fiberglass Lid and Door
12v, 2.3 cubic ft Stainless Steel Drawer Refrigerator with 3M Protective Film
Molded Aft Facing Cockpit Seat with Insulated Storage Below and Armrest
Folding Transom Seat with Patented Adjusting Backrest
Folding Seat (Portside) Under Gunwale
Fiberglass Boarding Step (Starboard)
Custom Molded Cockpit Table with Dual Mounting Locations and Dedicated Storage
Cockpit Machinery Access Hatch
Bow Machinery Access Hatch
Forward Cockpit Table and Bow Sunpad Filler
Mid-ship Machinery Access Hatch
Fresh Water Wash with Chrome over Brass Pull-out Sprayer
Fresh and Raw Water Outlets in Cockpit with Quick Connect Fittings and 25' Hose
LED Cockpit Accent Lights (5) with Waterproof Switch in Cockpit
LED Under Gunwale Mid-Level Accent Lighting (Blue)
Sunbrella Bow Tonneau Cover
Two (2) 316L Stainless Steel Drink Holders on Bridge Lounge, Two (2) Acrylic Drink Holders at Helm, Two (2) 316L Stainless Steel in Gunwale, One (1) Acrylic Drink Holder at Aft Facing Cockpit Seat
FISHING FEATURES
Rod Holders (4), Stainless Steel, in Gunwale
Lighted Oceana Blue 26 Gallon Recirculating Livewell
Vertical Rod Holders, (5) Stainless Steel. In Transom
Fish Boxes, Insulated, and Diaphragm Pumps with Overboard Discharge (Port and Starboard)
Cockpit Tackle Center with Plano Box Storage (3) Behind Aft Facing Seat Backrest
HELM
Molded Fiberglass Aft Tilting Helm with Instrumentation Visor, Electronics Mounting Surface, Fold Out Fiberglass Footrest/Platform, and Safety Lanyard
316L Stainless Steel Steering Wheel with Control Knob and Non-Slip Grip on Sport Tilt Plus Helm
12V Panel with Illuminated Carling® Rocker Switches
Port and Starboard Heavy Duty Pantographic Windshield Wiper System with Washer Control
Compass
Trim Tab Control Panel and Indicator
Waterproof Stereo Remote with Full Function Display
Two (2) 12V Outlet and One 12V Dual USB Charger
Bow Thruster Joystick Control
Helm Drink Holders (2) in Side Panel
Helm Fire Extinguisher
ELECTRONICS
Garmin® Electronics Package: Dual GPSMAP 8612 [1 XSV], Airmar B175M 1KW CHIRP Transducer, NMEA 2000 Starter kit, Pursuit Custom Dash Panel, Yamaha Gateway with Cable, VHF Antenna and Pre-Rig for VHF Radio (VHF Radio currently not available)
CONSOLE (PORT SIDE)
Patented Single Motion Dual Action Console Access Door with Gasket and 316L Stainless Steel Locking Latch
Cabin Entry Step
Molded Console Hull Liner with Pattern Area and Drainage
Molded Console Deck Liner
Dedicated Storage for Rods (4), Bow Table, Safety Gear, and Hanging Locker
Padded Fishing Reel Protector for Rod Storage
Convertible Berthing Accommodations/Seating with Cushions
Opening Port Light with Screen
Two Switch Panel with Overhead LED Lights (3) LED Floor Accent Light (1)
Main Distribution Panel with Voltage Display
One 12V Dual USB Charger and Flush Mounted Charging Station
One 120V Outlet (1) with GFI Protection
Fire Extinguisher
CO Monitor
HEAD (STARBOARD SIDE)
Patented Single Motion Dual Action Console Access Door with Gasket and 316L Stainless Steel Locking Latch
Enclosed Head Compartment
Vacuum Flush Electric Marine Head with Elongated Porcelain Bowl, 10 Gallon Holding Tank, Macerator Discharge Pump, 316L Stainless Steel Deck Pump-out Fitting and Bronze Through Hull Fitting with Seacock
Fiberglass Toilet Seat Cover
Switch Panel with Overhead LED Light (1) LED Floor Accent Light (1)
Wet Gear Hanging Feature
Molded Sink with Cold Water Faucet, Corian® Countertop and Vanity Mirror
Under Sink Storage Locker
Sump Box Drain with Automatic Discharge Pump
Toilet Tissue Holder
Towel Ring
One 120V Outlet with GFI Protection (1)
Cockpit Table Storage
HARDTOP & WINDSHIELD
Molded Fiberglass Hardtop with Integrated Visor
Powder Coated Aft Structural Hardtop Supports
Custom Windshield System with Tempered Glass and Articulating Center Vent
Custom Stainless Steel Ratcheting Anchor/Stern Light with Burgee Rings and USA Flag
Four (4) Tri Color LED Lights
Indirect Lighting over Dash
Fore and Aft Facing LED Spreader Lights
316L Stainless Steel Fore/Aft Underside Grab Rails
60 mil Strataglass™ Side Curtains
Integrated Stereo Speakers (4)
Horn, Trumpet
External AM/FM Antenna with 316L Stainless Steel Ratcheting Base
Port and Starboard Ventilation Hatches with Screens
Fiberglass Hardtop with Dedicated Radar, Antenna and Outrigger Locations
ELECTRICAL SYSTEMS
UL® Rated Fully Tinned, Color Coded Copper Wire
Custom In-House Built, Heat Sealed, Mechanically Crimped, Color Coded Battery Cables
Custom In-House Built, One-Piece Electrical Harness with Waterproof Connectors and Chafe Protection
Powder Coated, Aluminum, Screen Printed (Front and Back) Battery Switch and Breaker Panel
Bonding System: Thru Hull Fittings Below Water Line, Trim Tabs, Zinc Anode and Garboard Drain
Single 120V 30 AMP 60 Cycle Dockside Power with 316L Stainless Steel Power Inlet
One 120V 30 AMP 50' Dockside Power Cord
Two 120V Outlets (2) with GFI Protection
One (1) 40 Amp Battery Charger
Four Battery System: Port Engine (1), Starboard Engine (1), House (1), and Bow Thruster (1)
One Grounding Bus Bar
Electronics Fuse Block
Two 12V outlets (2) and Two USB Outlets (2)
One Flush Mounted Induction Charging Station
MECHANICAL SYSTEMS
Molded Interior White Gel Coat
Molded Hatch with Gasket and Stainless Steel Gas Spring
Molded Bilge Sump Area
One Low Profile 900 GPH Bilge Pump with Integrated Float Switch, One 1500 GPH with Electronic Switch and Alarm with Stainless Steel Clad Composite Thru Hull Fittings
Fresh Water Pump with Filter
Raw Water Pump with Bronze Sea Strainer, Seacock and Thru Hull Fitting
Fish Box Diaphragm Pumps (2)
Livewell Cyclone Pump with Bronze Sea Strainer
Teleflex Hydraulic Power Steering Pump
Dedicated Storage for Removable Stern Anchor
Dedicated Storage for Side Boarding Door Ladder
FUEL SYSTEM
Custom Built Premium Fuel Feed Lines with Mechanically Crimped Fittings
EPA Compliant Lined 150 Gallon (Port and Starboard) Rotomolded Fuel Tanks (2) with Engine Pickups, Shutoff Valves, Digital Level Indicators and Deck Fuel Fill Plates
Two (2) Yamaha® Water Separating Fuel Filters with Primer Bulbs
WATER SYSTEM
30 Gallon Water Tank and 316L Stainless Steel Deck Fill Plate
Premium Sea Tech Color Coded Water Hose System with Mechanically Crimped Ends
Pressure Sensing/Variable Speed Pump
Fresh Water Distribution Manifold with Dedicated Valves
Cockpit Shower
Pursuit reserves the right to change boat specifications, equipment, color schemes, and pricing, and/or discontinue models at any time without notice or obligation.
Some of the boats shown include optional or dealer-installed equipment.
Bootstripe Color -

Red/Red
BOAT w/ENGINES
Twin Yamaha® Digital F300 V6 Offshore (Pearlescent White) with Integrated Digital Electric Steering (DES) and Helm Master® EX Digital Electronic Control (DEC) (Does Not Include Joystick Control), Multifunction Display Interface
Yamaha® Joystick Control with Full Maneuverability (Set Point™ and Autopilot)
COLOR SELECTIONS
Hull Color
Carbon, Neptune Gray, Gulf Stream Blue, Flag Blue, Arctic Blue, Fresh White Full Bottom Gelcoat to Keel of Boat (Excludes: Flag Blue) Helm Color
Carbon, Neptune Gray, Gulf Stream Blue, Flag Blue, Arctic Blue, Fresh White Boot Stripe Color
Black/Black (Standard), Navy/Navy, Platinum/Platinum, Red/Red, Scarlet/Scarlet, Arctic White/Quartz Gray Upholstery Color
Sea Salt (Standard), White/Gray
MECHANICAL SYSTEMS
120V/60 Cycle 5.0 kW Fischer Panda® Diesel Generator with 16 Gallon Fuel Tank
Air Conditioning Package: Cabin 6,000 BTU, Cockpit 12,000 BTU (Requires Drop Curtain, Works with Shore Power or Generator)
110V/60Hz Cockpit Grill with Drip Pan
Spot Light (ACR RCL-100 LED) with Remote Control at Helm (Cannot be Ordered with FLIR Option)
Underwater Lighting LED (3), Quattro Spectrum
COMFORT & CONVENIENCE
12V, 1.7 ft3 Cooler with Chill Plate (Under Aft Facing Seat)
Bridgedeck Teak Table with Storage
Ski Tow, Transom Mount, Removable
Premium Stereo Upgrade: M6 Sport Speakers and Subwoofer, Custom Tuned 8 Channel DSP Amp, Sirius Receiver Includes 3 Months Subscription
WEATHER
Custom Retractable Sunshade with One Touch Operation
Bow Mediterranean Style Sunshade, (Stowable)
Sunbrella® Canvas Color: Black, Tweed, Cadet Gray or Navy
Upgraded Standard Canvas - Stamoid® (White)
Drop Curtain - Sunbrella®, Required with AC Package
Drop Curtain - Stamoid® (white)
Aft Curtain - Sunbrella®
Aft Curtain - Stamoid® (White)
Instrument Cover - Sunbrella®
Engine Covers - Sunbrella® (2)
Bow Tonneau Cover - Stamoid® (White)
SPORT FISHING
Hardtop Mounted Rod Holders (6)
Outriggers with 18' Premium Black Telescoping Poles and Rigging Kit
Outriggers - Upgrade to 20' Carbon Fiber Poles (Need to Order Outriggers)
ELECTRONICS
Garmin® Radar GMR 24 xHD (Dome)
Garmin® GC-14 Rear Facing Camera
FLIR Night Vision with Image Stabilization (Cannot be Ordered with Spotlight Option)
SiriusXM® Weather Receiver (Subscription Required)
This website uses cookies to ensure you get the best experience on our website.
GOT IT!