Skip to main content
PURE.
PURSUIT.
Quality time spent on the water with family is priceless. The ocean breeze, the sparkle of the water and sound of laughter, and a lifetime of memories. Whether you use your boat for cruising, fishing or watersports - you have the opportunity to enjoy your Pursuit and choose your own destination. Maybe you are a new owner or have had your Pursuit(s) for decades – either way we are happy to have you as part of the Pursuit family.
OWNER NEWSLETTERS
THE CATCH
A newsletter for Pursuit Owners which shares resources, news, owner stories and tips!
MAINTENANCE TIPS
We've compiled a list of routine maintenance tips to keep your Pursuit in top form.
Enjoy!
PURSUIT RENDEZVOUS
SAVE THE DATE!
June 12 – 18
With the cancellation of our 2020 Rendezvous, we expect out 2021 to be more robust than ever. Get excited about our journey to the Abacos! We will be bringing our newest boats for attendees to experience in the crystal-clear Bahama waters.
"Our growing family uses our C180 almost everyday here in Milwaukee.
We got engaged on this beach and continue to make boating part of our family tradition!"

Rob and Heidi Curran
"This is our new-to-us '14 385 OS. We loved it so much, we had the shirts made before we owned the boat! This was the send-off cruise before I took her 120 miles offshore to Veatch Canyon for 6 yellowfin, 1 albacore and 1 white marlin. What a fantastic trip, can't wait for the next adventure!"

Tim Sherry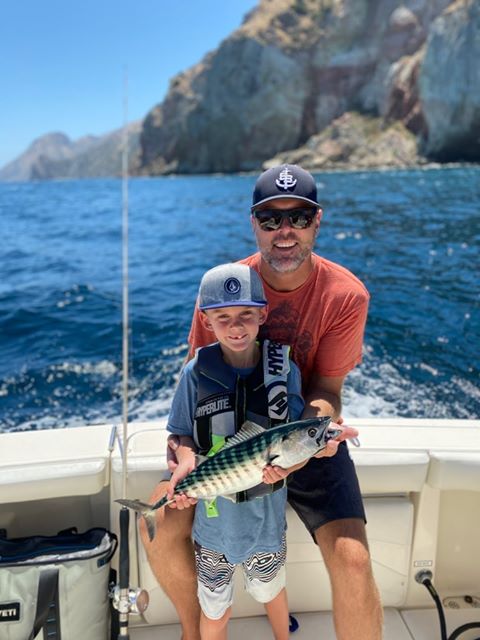 #PBTraditions fishing with the boys...double hook up. Front side Catalina Island on the Pursuit 3000 Express."

Rob Frizzelle
"I cannot share my Pursuit Boat traditions because my boyfriend Chris and I just accomplished our goal of buying our Pursuit OS325 on August 14, 2020. What I can share is my excitement to make many memories, traditions and adventures on our boat with our family and friends. We are so blessed to become owners of such a beautiful boat."

Misty Bartlett
SHARE YOUR STORY!
We want to share your experiences with your fellow owners as we grow our community and expand our Pursuit family.
Email mmorris@pursuitboats.com so we can share your experiences, photos or videos in our newsletter, website and social media.
---
PLACES TO BOAT & FISH MAP
FISHING LICENSE & BOAT REGISTRATION
This website uses cookies to ensure you get the best experience on our website.
GOT IT!