Skip to main content
PURE.
SPORT.
Center Console Boat Series
PURE.
SPORT.
Center Console Boat Series
PURE.
SPORT.
Center Console Boat Series
Pursuit Sport Center Console Boat Series
The Pursuit Sport Center Console Boat Series takes the center console boat to a whole new level. Extra-wide cockpits, oversized fiberglass integrated hardtops and windshield systems are ready to head offshore or to your favorite lake; wherever your adventures take you.
With accommodations for fishing, cruising and entertaining, there is something for everyone on these Sport Boats. Get ready for fishing with plenty of rod holders, in-floor fishboxes, livewells and dedicated storage for your gear. Larger Sport Boat models have additional seating, cabins, head and berths below deck and include a wet bar and cooking amenities for weekend getaways.
Ranging from 24 ft. to 42 ft. in length, the Sport Fishing Boat Series provides an athletic exterior profile with industry-leading features, award-winning innovations, best-in-class amenities and the quality, fishability and versatility that you've come to expect from Pursuit.
Brimming with standard features, our Sport Center Console Boats are in a class of their own.
Also available are many optional features so you can customize your perfect Pursuit Center Console.
Build Yours Today!
---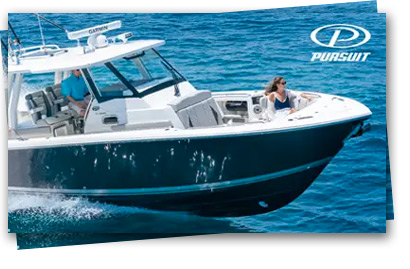 GET A DIGITAL OR PRINTED COPY
OF OUR 2022 MODEL YEAR BROCHURE
The 112 page full color brochure is perfect for viewing our full model lineup and learning more about Pursuit Boats. The glossy printed version also makes for a stunning coffee table book.
Request 2022 MY Brochure!
---
Great Boat
05/30/2023
My family and I are very pleased with our S268 and are having a lot of fun with it; Happy family - Happy with our S268 Our children and our older grandchildren want the "Wheel" and our younger grandchildren love running around in the boat
ROBERT D.
More than a fishing boat
01/06/2023
I purchased a new Pursuit 288s at the Miami boat show. This model is so much more than just a fishing boat. I have used it to anchor out and swim for the day. The Mediterranean shades make hanging out a pleasure. I have taken a crowd out to watch 4th of July fireworks with great comfort. The boat handled the ride back to the dock with ease. It handled large boat wakes, the radar spotted the smaller vessels, while the passengers remained dry and happy. I would highly recommend the boat.
RICHARD A.
The only option.
02/15/2023
Coming from the north and using lake boats, Pursuit was the only company that created an environment for salt water fishing that is both fun to entertain on, and in parallel, have a world-class fishing experience. Moving to Florida from Chicago this was extremely important. The fit and finish is unmatched, and the features made us feel as we gave up nothing. Looking forward to years of being part of the Pursuit family!
DANIEL J.
Confident In My Pursuit
06/17/2022
My boat looks right and feels tight. My S268 gives me the confidence to just go and get on the water, have fun, and not worry about anything at all.
JOHN N.
Pursuit S288
08/06/2022
I just purchased a S288 Pursuit. I couldn't be happier with the layout and the ride. I highly recommend the boat.
RICHARD S.
Super Boat
06/20/2023
I have had several boats in the past…My new Pursuit is by far the best I've owned. Great layout and build quality. Easy to use and operate. Family really enjoys it too!
SHAWN F.
Awesome Boat !
01/15/2023
We have owned alot of boats and different style of boats all high end so we were very selective and had it narrowed down to 3 other big names in the industry the S288 Sport came out on top for our family. After custom ordering and taking delivery even more impressed with the quality, ride, comfort, interior layout, exterior design, fish ability and performance. AWESOME BOAT !!!!!
ANTHONY G.
Love our boat
07/28/2023
For us it was all about choosing a boat that was quality, Styling and reliability we believe our Pursuit hits on all levels. We have enjoyed our boat and already are comfortable in it. Our experience purchasing was also very good made us feel comfortable and not pushy. overall we are thrilled .
ENGIN N.
Pursuit at it's finest
08/26/2023
I cant be happier with my S328!!! Being a boat owner for 20 years, my new boat is a dream come true. Well built to last!
RUBEN M.
Pursuit builds a "solid quality" boat whether for fishing or just cruising with the family! Extremely happy I chose this manufacturer.
04/13/2023
Quality built boat with great "lines" on the water. A perfect fit for the Chesapeake Bay cruising or fishing expeditions!!
JON S.
3 new Pursuits in 2 years....OS 355, DC 365 and S288...Great Quality boats across the entire line up!!!
08/09/2022
As a retired Boat Dealership owner (non Pursuit unfortunately) Our family just can't make up our mind on which type of boating we enjoy the most. Overnighting and fishing on an OS355? Massive Day boating on the incredible DC365 loaded with creature comforts, or the best towable boat we have ever owned, the S288....The "sports car of boating" that we heard about is all true. All have Pursuit Quality and the personal experience at Yamaha Marine Center (Don and Brad) is the icing on the cake!
Andrew K.
Best in class
07/07/2023
My s328 is an amazing center console. Perfect size to stay inshore, fish and socialize and large enough to get up and go for hours at a time. Only boat In this size that I've come across to have cabin space large enough to actually use. The power and fuel efficiency is excellent. The boat is built solid, no rattling or items falling apart. The perfect family fishing boat!
Jason B.
Pursuit S378 Excellent Boat
09/09/2022
The performance, ride and handling of the Pursuit S378 is excellent. The layout of the dash and ease of use of all controls makes it a pleasure to use the boat. The cabin and head are features that are a big hit with my wife and daughter. Pursuit has hit a home run with this model boat!
PHILIP B.
Perfect family boat!
06/10/2023
Our s328 is so versatile! Setup for fishing or out for a day of tubing on the lake and it quickly adapts to entertain 10-12 people easily! Pursuit was great to work with during the build process.
KYLE B.
Multi-use vessel pursuit
05/19/2022
Pursuit S288sport is a truly multi purpose boat. Capable of fishing with all the implements to make the day a success. Able to handle a crowd in comfort. Attractive that makes heads turn. Can pull aquatic toys with ease. Handles rough seas with grace. Very pleased with my new boat.
RICHARD A.
Really enjoying the boat.
07/08/2023
My new Pursuit has been excellent. First off - everything works. I know this sounds obvious but my last boat, which I bought new, had problems from day one. The boat handles very well and is easy to operate. Very happy with her.
Anonymous.
Performance without Compromise
06/24/2022
Our Pursuit S288 exceeded our expectations. The build quality is top notch. Everything within the boat is well thought out and laid out. The boat performs extremely smooth with plenty of power equipped with twin 300 hp Yamaha outboard engines. At first we thought about adding a bow thruster; but the equipped joystick controls more than handle the boats needs. We couldn't be happier! KUDOS Pursuit!
William & Marion M.
New Pursuit S358 Owner
07/30/2022
Great experience all the way around. We went to the Miami boat show knowing we could look at all the different boat brands and models in this class boat and Pursuit was by far the best when it comes to style, performance and versatility. I meet Joe Toland with Coastal Carolina Yacht Sales which is our local Pursuit Dealer in South Carolina and he has been great the whole time. We took deliver on July 1st and have taken it down the coast and over to the Bahamas. Boat did Great in every way.
MARK S.
Happy Pursuit First Time Owner
09/16/2023
Couldn't be happier with our brand new Pursuit. As first time boat owner, Pursuit has far exceeded our expectations and has provided us with a top quality boat and experience. We are beyond happy with Ocean Blue Yacht Sales and our salesperson, Colter Swafford. They did not put pressure and made the experience very enjoyable and stress free.
James G.
Sanford FL to Charleston- Miami to the Exumas
04/26/2023
We have really enjoyed our PursuitS428. Currently cruising the ICW up to Charleston SC. Started on the St Johns River. Returning the boat to Miami May 5th so in June we can go to the Bahamas. The boat is dependable. It's comfortable. The Yamaha's are running well. It's a great boat.
GREG R.
So Far exceeded my expectations
08/09/2023
First was a lot of money to buy a new boat. So I weighed the benefits of what I wanted looked at several brands. Was very close in buying another brand that the dealer carried but saw this boat on the website I had the dealer put the boats next to each other. I wanted to compare functionality for my needs. I like to fish but we also like to just boat and hang out at sand bars it's a SUV I decided on the Pursuit which wasn't my first choice but won on functionality & quality
SCOTT M.
Pursuit is the best boat I've ever owned!!
10/03/2022
Pursuit builds one of the best boats I've ever owned. Legendary and Caribee dealerships stood behind the sale with great world class service
Rick C.
Pursuit 428
05/13/2022
Best boat I have ever owned and I am a marina owner with many marina locations so i have several boat of all types at any time, highly recommend !!
DARBY C.
Honest review, lifelong family boaters & fisherman
05/10/2023
We use our pursuit 288 weekly in southern North Carolina offshore areas. It handles 90% of conditions as well, as any comparable boat we have been on. The fit and finish are second to none, we get compliments everywhere we go, and the ride is on par with the market benchmark. We almost always outpace other boats in the ocean without coming close to a punishing ride. Beautiful boat, top quality construction, solid, fast, very fishable, family & dog friendly.
Christopher P.
Pursuit number 2 in Marco
11/26/2022
We are very excited to take delivery of our new 288! We just upgraded from a 2470 and can't be happier. Our two boys grew up on the 2470 Fish Fite'r and now are captaining our new 288! Pursuit makes incredible boats and we are so glad to be on Fish Fite'r II!
David F.
Best of both worlds
11/14/2022
Pursuit is the best example of a luxury fishing boat. It has all the amenities of a high end day cruiser with everything needed for fishing. Every detail has been considered.
SCOTT D.
Excellent choice
05/20/2022
I have been in boating since 1962 when I purchased a 13' Squallking. Since then i have always owned boats from small ones to Motoryachts. Just turned 80 and decided to sell my 72' Trideck Marquis for something smaller and easier to handle by myself. Apex Marine, where I've hauled out and serviced my boats for years, recommended me to check Pursuit boats. I was truly impressed with the quality and design of the S328 and after a sea trial,, decided to join the Pursuit owners family.
MIKE V.
Pure Putsuit Pleasure
01/29/2023
I own a 2022 S358,it encompasses the entire boating experience from competition fishing, to a lazy anchor day of enjoying the water and sunning
Anonymous.
Pursuit Boats are simply the best!
05/02/2023
After looking at many different center console boats it has become obvious that Pursuit is in a class of it's own…great job to the many team members at Pursuit that make boats like mine possible to enjoy!
JOEY W.
The perfect boat design and build quality
07/11/2023
amazing engineering backed by the best dealer sercice and support on east coat. Colaberative effort between dealer and factory make for a truly amazing boat ownership experience. Pursuits stringer design, strong, dry, hull and quality control stand out as best in class above others. this is the ideal boat for both Family and fishing!!
Robert R.
Pursuit 328
08/20/2023
Happy customer! Excellent boat. Handles well and intuitive to use. Also has good performance with Yamaha engines. Love how much space and shade it has. Great for going to the beach and having a relaxed time with family.
JESUS G.
Very satisfied Carolinas Boater
09/07/2022
Having been boating for approximately 30 years on the southern North Carolina coast through several different manufacturers and size boats from 10 to 52 feet, our newly purchased pursuit 288 has blown away all of our expectations and continues to impress upon every use. We greatly appreciate the ride and excellent build quality of the 288. A++ in all areas, this will not be our last Pursuit!
Christopher P.
Happy Pursuit Owners
06/20/2023
Pursuit's quality and attention to detail is why we chose the boat. We are thrilled with our 268 S!
CHRIS S.
QUALITY AND VERSATILITY.
03/14/2023
GREAT FOR FISHING. GREAT FOR FAMILY FUN. GREAT QUALITY.
Craig S.
Pursuit of Happiness
08/21/2022
I originally purchased my first Pursuit 5 years ago and was very happy with the DC295. The boat provided me and my family with the features and safety we desired. I then purchased my S328 just two years ago to enjoy a day fishing or an afternoon cruising, which has been a wonderful decision. I recently entertained the possibility of the S428 based on my overall experiences with my previous Pursuit boats. I must say that my salesperson, Ed Bickels is largely responsible for selecting Pursuit.
ROBERT L.
Pursuit 328S
06/25/2022
Pursuit has payed attention to all the details on this boat. The generator is perfect for keeping the cabin cool, running the grill, or cooling down the refrigerator. The boat is designed to be a fishing machine. The electronics, cockpit, fishing areas, as well as the dry ride lead to a great day on the water. Will be the boat that we use for years to come.
WILLIAM W.
Pursuit Boats are great family boats
10/05/2022
For All around family boating fun Pursuit boats make a boat that are great for fishing and/or just enjoying cruising and being on the water. Our Pursuit even has an electric grill that we use a lot. We enjoy anchoring in a cove and letting the kids and adults play on the beach while we cook hotdogs and hamburgers. Any day on the water is always special but when we are on our Pursuit it become memorable
THOMAS M.
Best 42 on the market.
08/23/2022
My wife & I are enjoying our new Pursuit S 428. The engines (Yamaha 425) are great and the gas mileage is a lot better than the 600 Mercury's..15 gallons an hour better. Pursuit makes a fine boat and their employees value quality.
GREG R.
Boating Enjoyment
05/27/2022
Our S378 is a fantastic boat for our family to enjoy all things on the water in South Florida. The layout allows everyone to have plenty of space whether underway or at anchor. The ride quality is exceptional and makes for fun cruising on the intracoastal as well as ocean. This is the best center console we have owned.
Anonymous.
Love everything about my pursuit boats
08/18/2023
Have had 3 pursuits and they've all been fantastic
Anonymous.
Pursuit and Strongs Marine - The Best
11/03/2022
In the complicated world of boats - reliability, quality, ever present assistance and fun are the key elements. Pursuit and Strongs Marine deliver and keep delivering all of those and more.
RONALD K.
Very satisfied Boat Owner.
05/25/2023
This is my second Pursuit boat that I've owned in the last 4 years. I am very satisfied with the quality, performance and the finishes of the boat. My dealer Apex Marine has been fantastic from the very beginning till now. Salvy Cisneros my salesman is very knowledgeable and really took his time explaining everything. He was at the sea trial and made sure my experience was totally satisfactory. Sonya in the service department is amazing!! If you have a problem she takes care of it.
SERGIO C.
Best boat I've ever owned
10/22/2022
Versatile, comfortable, good looking and all around great great boat.
JARED A.
My First Pursuit
08/25/2022
Having owned boats for 25 years I am loving my new 378S. Built to last; performance driven; everything I could ask for in a new boat. And a great dealer and manufacturer experience. Thank you Pursuit!
Russell T.
More than Expected
10/31/2022
From the moment I stepped onboard through the side door, I felt at home on this boat. But it got better from there. The S 288 turned out to be the perfect boat for me. I live on the south shore of Long Island and this boat is great for inshore and offshore fishing and we've cruised the eastern end of Long Island with up to 8 friends aboard. I love how the S 288 quickly jumps up onto a plane and effortlessly zips through the inlet to the fishing grounds. Yay to Drew at Strong's Marine!
Anonymous.
Pursuit S288
07/03/2022
We are very pleased with our purchase and love to spend time on it for pleasure and soon fishing. Would definitely recommend this boat or any other in the Pursuit line.
James H.
Pursuit S428 is an eye catcher
11/18/2022
Anytime we go anywhere, other boaters sit up and take a notice and usually express their admiration. Gorgeous design!
TIMOTHY A.
Perfect for our family!!!
06/28/2022
Pursuit nailed it with this boat!!! Features galore. Our Sport 288 allows us to spend time together with family or friends at the sandbar or an island along the intercoastal and we can also confidently venture well offshore or over to the Bahamas. The 24 degree deadrise makes for a comfortable ride when mother nature isn't cooperating. We are so proud to be part of the Pursuit Family
NEAL H.
Amazing Quality and Versatility
04/23/2023
My Pursuit S288 has been an inredible boating experience. I have owned the boat for a year. The versatilty allows our family to enjopy the boat in so many ways. We love to fish and the fishability is great. We also cruise, take it the sandbar, and other destinations. The quality and comfort of the seats make the boat such an enjoyable ride.The solid, stable ride makes me feel safe when the seas get a bit choppy. It is everything we had hoped for and then some!
MIKE S.
Impressive
06/05/2022
This boat exceeded all of my expectations for quality, performance, comfort and style. We get compliments every time we are out on the water!
ROBERT B.
Previous
Next
Sport Center Console Boat Articles
COME SEE YOUR NEXT PURSUIT SPORT CENTER CONSOLE BOAT!
Contact your factory authorized Pursuit dealer.
Find Your Dealer!