Skip to main content
PURE.
SPORT.
Center Console Boat Series
PURE.
SPORT.
Center Console Boat Series
PURE.
SPORT.
Center Console Boat Series
Pursuit Sport Center Console Boat Series
The Pursuit Sport Center Console Boat Series takes the center console boat to a whole new level. Extra-wide cockpits, oversized fiberglass integrated hardtops and windshield systems are ready to head offshore or to your favorite lake; wherever your adventures take you.
With accommodations for fishing, cruising and entertaining, there is something for everyone on these Sport Boats. Get ready for fishing with plenty of rod holders, in-floor fishboxes, livewells and dedicated storage for your gear. Larger Sport Boat models have additional seating, cabins, head and berths below deck and include a wet bar and cooking amenities for weekend getaways.
Ranging from 26 ft. to 42 ft. in length, the Sport Fishing Boat Series provides an athletic exterior profile with industry-leading features, award-winning innovations, best-in-class amenities and the quality, fishability and versatility that you've come to expect from Pursuit.
Brimming with standard features, our Center Console Sport Boats are in a class of their own.
Also available are many optional features so you can customize your perfect Pursuit Center Console.
Build Yours Today!
---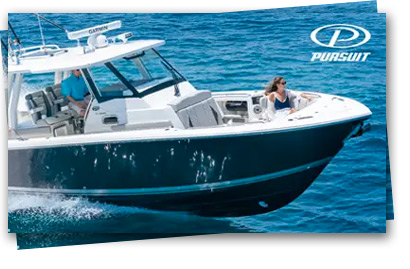 GET A DIGITAL OR PRINTED COPY
OF OUR 2022 MODEL YEAR BROCHURE
The 112 page full color brochure is perfect for viewing our full model lineup and learning more about Pursuit Boats. The glossy printed version also makes for a stunning coffee table book.
Request 2022 MY Brochure!
---
Excellent choice
05/20/2022
I have been in boating since 1962 when I purchased a 13' Squallking. Since then i have always owned boats from small ones to Motoryachts. Just turned 80 and decided to sell my 72' Trideck Marquis for something smaller and easier to handle by myself. Apex Marine, where I've hauled out and serviced my boats for years, recommended me to check Pursuit boats. I was truly impressed with the quality and design of the S328 and after a sea trial,, decided to join the Pursuit owners family.
MIKE V.
Amazing boat that can do it all.
06/07/2021
We looked at every brand boat is the 30 ft sector and just couldn't find another brand with the fit and finish of Pursuit. After that the ride sealed the deal! Coastal Carolina Yacht Sales in Charleston really nailed it.
Blake M.
Love my Pursuit 288 Sport!!!
04/21/2022
This is my first 288 Sport Pursuit after having 3 models of another premier brand. I switched to Pursuit because I could see that Pursuit now builds the best looking, yacht quality, best fit and finish boat in this class and I will only go with Yamaha reliability power they have that too. Can't wait to get back out on her!
Anonymous.
Pursuit S288
07/03/2022
We are very pleased with our purchase and love to spend time on it for pleasure and soon fishing. Would definitely recommend this boat or any other in the Pursuit line.
James H.
A Pursuit from Quality Boats The Best of Both Worlds!!
12/29/2021
I love our 2021 S328 and I will buy another Pursuit in the future. I am so happy with Derrick H. and Quality Boats that if they no longer sold Pursuit it would be a tough choice what to do. Our Pursuit is very high quality and I have owned 6 boats and its by far my favorite. Quality Boats is also my favorite selling dealer ever. Service is the most important and they nail any minor issues fast and efficiently. Thx Quality Boats & the Team @ Pursuit. I will be a customer for life. Best, Rick
RICHARD P.
New Pursuit S358 Owner
07/30/2022
Great experience all the way around. We went to the Miami boat show knowing we could look at all the different boat brands and models in this class boat and Pursuit was by far the best when it comes to style, performance and versatility. I meet Joe Toland with Coastal Carolina Yacht Sales which is our local Pursuit Dealer in South Carolina and he has been great the whole time. We took deliver on July 1st and have taken it down the coast and over to the Bahamas. Boat did Great in every way.
MARK S.
Great Boat, Great Dealership
04/28/2021
This is my 4th new Pursuit from Atlantic Outboard in Westbrook, CT. I love my Pursuit S328. Great power, great ride and great features. My dealer is nothing short of extraordinary and goes out of their way to be sure I am 100% satisfied. My sales rep, Evan Cusson, was excellent throughout the entire sales process and continues to be a great asset with follow up questions I may have. I whole heartedly recommend Atlantic Outboard and Pursuit boats to anyone looking to get a luxury outboard boat.
Anonymous.
S378
08/20/2021
This boat is amazing. Turns heads wherever we go. My wife was set against a center console as we had a cabin boat prior hereto but she is completely satisfied with this boat. The creature comforts are numerous and well thought out. The cabin area is beautiful and would accommodate the two of us for overnight trips perfectly. We love it!
ROBERT B.
Awesome!!
08/27/2021
I bought a 2021 DC326 from Bosuns in Peabody, MA. Awesome experience and incredible boat. Quality and Fit and Finish is outstanding. Very happy with the boat and all the folks at Bosuns. Highly recommend the Pursuit brand! Thanks
SCHOFIELD C.
Attention to detail
07/01/2021
Pursuit Boats are unparalleled in fit and finish. No detail is skipped, Atlantic Outboard is a thoroughly professional dealer, as world-class as the Pursuit boats they sell and service.
Walter A.
Great boat!!
12/19/2021
I have always wanted a center console boat. I want a boat with as many accessories possible but usually you need to get a much larger boat. At 26' 8" it is equipped like a 40 footer. Love it!
ALAN L.
A Promise Kept
07/15/2021
I have purchased new boats in the past and each time every manufacturer was late on delivery. In 2021 everyone is trying to purchase a boat. Pursuit gave my dealer a delivery date and hit it right on the mark. A promise kept!
Anonymous.
We love our Pursuit.
03/09/2022
We absolutely love our Pursuit. These boats aren't cheap but you get what you pay for. Stellar customer service, superb quality and yacht grade finishes. It's a Porsche on the water.
Blake M.
S-328 best value for the dollar
02/26/2022
We searched for many top tier boats in this size. For comfort, amenities and fishability this was the best boat in it's class for our needs.
Charles M.
Impressive
06/05/2022
This boat exceeded all of my expectations for quality, performance, comfort and style. We get compliments every time we are out on the water!
ROBERT B.
Confident In My Pursuit
06/17/2022
My boat looks right and feels tight. My S268 gives me the confidence to just go and get on the water, have fun, and not worry about anything at all.
JOHN N.
Great product, Great Dealer
05/15/2021
Got a 328 Sport. What an amazing product! Great for fishing and entertaining and it's absolutely beautiful. Thanks Pursuit.
John C.
Multi-use vessel pursuit
05/19/2022
Pursuit S288sport is a truly multi purpose boat. Capable of fishing with all the implements to make the day a success. Able to handle a crowd in comfort. Attractive that makes heads turn. Can pull aquatic toys with ease. Handles rough seas with grace. Very pleased with my new boat.
RICHARD A.
Pursuit 328S
06/25/2022
Pursuit has payed attention to all the details on this boat. The generator is perfect for keeping the cabin cool, running the grill, or cooling down the refrigerator. The boat is designed to be a fishing machine. The electronics, cockpit, fishing areas, as well as the dry ride lead to a great day on the water. Will be the boat that we use for years to come.
WILLIAM W.
Excellent Customer Service
07/17/2021
The Pursuit brand has been responsive to any requests we have had, and their customer service is top notch. They stand behind their product, and our dealer, Coastal Carolina Yacht Sales, has been amazing to work with.
ANDREW R.
Pursuit 428
05/13/2022
Best boat I have ever owned and I am a marina owner with many marina locations so i have several boat of all types at any time, highly recommend !!
DARBY C.
Everything I was looking for
07/15/2021
My quest was to find a high quality boat that was very versatile in the 30-35 foot range . After looking at many types of boats I found that the Pursuit 328 sport fit those needs perfectly. It is very spacious so it allows room for fishing yet converts easily to a fun boat that will take plenty of people. The quality is outstanding.
Anonymous.
Performance without Compromise
06/24/2022
Our Pursuit S288 exceeded our expectations. The build quality is top notch. Everything within the boat is well thought out and laid out. The boat performs extremely smooth with plenty of power equipped with twin 300 hp Yamaha outboard engines. At first we thought about adding a bow thruster; but the equipped joystick controls more than handle the boats needs. We couldn't be happier! KUDOS Pursuit!
William & Marion M.
New Pursuit 288 Sport Exceptional!!!
07/25/2021
My new Pursuit 288 Sport has just been phenomenal. She exceeded my expectations for ride, Yamaha's best in the industry reliability, sea keeping, beautiful looks, fit and finish, comfortable seating and the delivery was terrific. I have owned many new boats and Pursuit built me an incredible boat and it was delivered flawlessly by Bosun's Marine. I absolutely love everything about her and the best part is how much my family loves her for swimming, water sports and coastal cruising. Thank you!
Anonymous.
Excellent Boats
06/08/2021
I am a huge fan of Pursuit, as is evidenced by my second purchase. The design, finish, and quality make for a boat that always inspires confidence offers joy for years. I had my last one for nine years and still had trouble parting with it.
LUIS S.
Perfect for our family!!!
06/28/2022
Pursuit nailed it with this boat!!! Features galore. Our Sport 288 allows us to spend time together with family or friends at the sandbar or an island along the intercoastal and we can also confidently venture well offshore or over to the Bahamas. The 24 degree deadrise makes for a comfortable ride when mother nature isn't cooperating. We are so proud to be part of the Pursuit Family
NEAL H.
Outstanding boat and Outstanding Dealer
07/14/2021
I traded in a Pursuit OS355 after several years of great experience with the boat and All Seasons Marine in Connecticut. The new boat, an S378 is also outstanding, a significant upgrade in performance and ride. Of course, these are two very different boats. I am very pleased with the useability, fishability, and features of the S378. I would buy it again.
Adam W.
Nothing but QUALITY @ QUALITY BOATS!!!
04/03/2021
We purchased a 2021 Pursuit S328 from Derrick Hunter @ Quality Boats in Sarasota. I have to say after owning several boats over the years our new Pursuit is our favorite so far. I actually didn't buy a Pursuit because I was searching for a Pursuit, I bought our new Pursuit because Derrick was so knowledgeable and so passionate about the brand (and we could see that immediately) that we knew it was the brand for us. We love our new Pursuit and will def buy another in the future!!
RICHARD P.
Pursuit Boats and Walstrom Marine - Both The Marine Gold Standard!
05/09/2022
We've had the distinct pleasure of buying numerous boats over the years from Walstrom Marine, both in Harbor Springs and now in Traverse City. They do a wonderful job representing their customers. They are the best! We initially purchased a Pursuit S 368 Sport and later a Pursuit S 268 Sport. We use each for different purposes, but both have several things in common. They are remarkably engineered, built using the highest quality materials, perform exceptionally and always proud to own.
Mark B.
First time boat owner
01/10/2022
Amazing buying process from start to finish. Quality Boats in Clearwater was fantastic and my new Pursuit 328 is the best of both worlds: fully equipped fishing boat with all the family friendly amenities for day cruising. It is the perfect blend to maximize usage. The joy stick features makes docking simple for a novice boat owner.
SCOTT D.
Boating Enjoyment
05/27/2022
Our S378 is a fantastic boat for our family to enjoy all things on the water in South Florida. The layout allows everyone to have plenty of space whether underway or at anchor. The ride quality is exceptional and makes for fun cruising on the intracoastal as well as ocean. This is the best center console we have owned.
Anonymous.
Pursuit of Excellence.
04/01/2022
I thoroughly enjoy my new Pursuit. It exceeded my expectations in quality, fit & finish, large features, great ride, appearance, and comfort. A great family boat. No fuss. Simply untie, turn the key and go. Additionally, my dealer is fantastic as are the Yamaha engines.
John B.
Another Great Boat
03/19/2021
This is the 4th Brand New Pursuit that I have purchased. They always provide a good experience & provide the best quality of materials, especially the Gel Coat & SS.
Leonard T.
Best boat on the market!
03/16/2021
This is my second Pursuit boat and the updated improvements were great. No other boat on the market can compare to the quality of Pursuit!
Daniel C.
S-288
08/17/2021
We were fortunate to be able to visit the factory while our boat was being built. The tour confirmed our decision to purchase a Pursuit was the right decision. The attention to detail and pride in workmanship was displayed by everyone we encountered during the tour. Our finished boat was delivered a couple of weeks and we' couldn't be happier. While we are bias we constantly receive comments from others while out and about along the Alabama / Florida Gulf Coast on how good the boat looks.
Anonymous.
288 Pursuit Sport- A Covid Must!!
05/03/2021
I am extremely satisfied with my 288. I put 130 hours on vessel and felt like I did not make it out enough. Maybe the best boating season I ever had!
Paul B.
Love My Pursuit
03/08/2022
This is my second Pursuit, and I absolutely love it.
LUIS S.
Unbelievable Quality
04/24/2022
In researching a larger boat, our broker introduced us to Pursuit. We were so impressed with what he had to say and reviews Pursuit had received, that we felt the need to learn more. We scheduled a tour of the Pursuit facility and personally saw the quality of work and the extent the company went to, to ensure the utmost satisfaction of the buyer. The reputation of their brand is an engineering company that builds boats. The fit and finish is impeccable. We couldn't be happier!
Patrick P.
Previous
Next
Sport Center Console Boat Articles
COME SEE YOUR NEXT PURSUIT SPORT CENTER CONSOLE BOAT!
Contact your factory authorized Pursuit dealer.
Find Your Dealer!
This website uses cookies to ensure you get the best experience on our website.
GOT IT!