Skip to main content
PURE.
OFFSHORE.
Offshore Boat Series
PURE.
OFFSHORE.
Offshore Boat Series
PURE.
OFFSHORE.
Offshore Boat Series
Pursuit Offshore Boat Series
Pursuit Boat's Offshore Boat Series combines seaworthiness and fishability of the world's top express and walkaround offerings with the luxury interior appointments of the most comfortable cruisers.
Ranging from 32 ft. - 46 ft. with twin and triple outboard engine options, the Offshore Boat Series provides true live-aboard space while also offering amenities for cruising, entertaining and fishing. The elegant yacht-like exteriors pair with well-appointed cabins finished in interior hardwoods and modern fabrics, equipping you for many overnight stays in your private cove or harbor. Like all Pursuits, the Offshore Boat Series is ready to fish with plenty of rod holders, livewells, fishboxes and tackle storage.
The cabins on the Pursuit Offshore Fishing Boats include berths in the forward and aft sections to allow sleeping accommodations for four people, a functional galley for cooking and a separate enclosed head with stand-up shower. The bridge deck serves as a raised helm area for exceptional visibility and a separate climate controlled social zone.
The Pursuit Offshore Boat Series is the perfect combination of live-aboard amenities, weather protection, climate control and open aft cockpit accommodations. The Offshore Fishing Boat is ready to take you places.
Brimming with standard features, our Offshore Boats are in a class of their own.
Also available are many optional features so you can customize your perfect Pursuit Offshore.
Build Yours Today!
---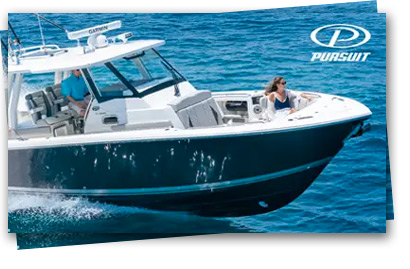 GET A DIGITAL OR PRINTED COPY
OF OUR 2022 MODEL YEAR BROCHURE
The 112 page full color brochure is perfect for viewing our full model lineup and learning more about Pursuit Boats. The glossy printed version also makes for a stunning coffee table book.
Request 2022 MY Brochure!
---
Beyond Expectations
11/30/2022
I've had my new 355OS for nearly a year now and have enjoyed the boat so much. This past summer my family and friends (13 people) went to the Bahamas for 10 days and we never felt crowded during our crossings. Everyone was so impressed with how spacious and how good the boat handled. Fantastic! Thank you Pursuit for building such a beautiful Boat.
GERMAN P.
In "Pursuit" of Happiness
12/18/2022
I had been looking for a family boat that I could use for cruising, serious fishing and also that could be trailered. I was seriously considering Boston Whaler until I met a friend who introduced me to his Pursuit. I was immediately impressed by the quality of the boat and all its features. I then met a great person at the dealership that helped me all the way through sea trial. So far I am very happy. Great boat!
Ralph G.
Love my 2023 Pursuit OS 445
05/13/2023
I purchased a Pursuit OS 445 Offshore this April and enjoying it very much. It is a beautiful and versatile boat that can do it all, from fishing to cruising to entertaining. It has a sleek and elegant style that turns heads wherever I go.. I can reach almost 50 mph on calm water and get on plane in seconds. The boat is also very durable and well-built with good dealer support from Coastal Carolina Yacht Sales Will, enjoy many years will it with my family.
David F.
My Pursuit Delivers!
10/01/2022
I love the flexibility and performance of my new Pursuit 385. It delivers in many ways!
John P.
PURSUIT vs "the big guys"
07/30/2021
Over the years, I have had the opportunity to own larger sport fishermen yachts. My new 385 with three outboards, is a LOT less maintenance. The elimination of inboards, running gear, bottom jobs, and engine room problems allows us to spend more time fishing! I'm confident that we have reduced our maintenance costs by 2/3. We have lost access to a larger salon that we really didn't use. Pursuit's attention to detail and quality equipment has made a big difference.
GEORGE W.
First Class Experience--Pursuit is the way to go
10/29/2021
This is my first pursuit (385 OS) and we have spent many hours running the boat to Florida and back to the northeast during out first 8 months of owning the vessel. This boat handles amazing in the open seas and still has the ability to cruise in the back bay to enjoy sporting activities and restaurants. It's heavy and durable coupled with nice finishes and luxury touches throughout the boat. Fishing + Luxury finishes for entertaining = Masterpiece...nice job Pursuit!
JASON H.
Best Boat on the Water!
09/01/2022
I have owned several boats over my lifetime from 22' to 35' and the OS385 is by far the finest boat I have owned. Would recommend this Quality Product to anyone!
JOHN R.
Great All around boat
10/24/2021
We love our new Pursuit 355OS. In fact, its perfect for a weekend get away, a long day of fishing, and to entertain friends a family. Not only does it have ample power, it performs great in all types of conditions. We couldn't be happier with our choice!
Dennis K.
Pursuit OS355 -- Great Boat
06/23/2022
Pursuit makes a great boat. We love our 2021 OS355. Having the triple 300hp Yamahas makes a big difference. In terms of service and support you cant beat Pursuit and my local dealer All Seasons Marine Works in Norwalk CT!
Dave C.
Very pleased
08/22/2021
We enjoyed our maiden voyage on our 385 OS. Five family members slept on board, it was a little cramped, but we had a wonderful time and our boat performed flawlessly. We're looking forward to the next weekend and a cruise to Harbor Town. The boat handled the open ocean (3'-5' seas) comfortably, and was nimble enough to navigate the tight turns of the Inter coastal waterway. The triple Yamaha 300's purred like kittens and were beneficial when the waterway depth dropped to 4' in some areas.
Anonymous.
OS 385 with the Tower option
06/16/2022
Awesome beautiful boat, a fishing machine! Love it! Stone Harbor Marina is excellent service and support. Very Happy and satisfied.
JAY D.
Don't think twice…Pursuit Boats!
11/19/2022
Pursuit is a legit brand. From the craftsmanship to the warranty to the dealer network, Pursuit is a solid option. We've owned many different brands and Pursuit has far exceeded our expectations. If you're on the fence, don't think twice, get yourself a Pursuit.
Nora Z.
Pursuit 385 OS
09/27/2021
Our family of 5 loves our Pursuit 385 OS. Plenty of room for every one, performs perfectly and is beautiful inside and out.
MITCHELL D.
Love our Pursuit
08/29/2023
This is our second pursuit purchase and we couldn't be happier. Quality, durability and Craftsmanship all in one. Our OS355 allows us to cruise or fish whenever we like and she feels solid underway. Proud to be part of the Pursuit Family.
ISABELLE M.
Great boat gives great experiences.
06/03/2022
We love our OS 385!! It's spacious, easy to operate, and it's inviting to family and friends. It also handles gracefully and feels strong.
ORIAN D.
Go big or go home
04/23/2023
It's not all about the money, do your homework and get what you pay for. Pursuit is simple the best off shore mid size sport cruiser boat on the market. It's just that simple..
Tracey W.
2022 OS385 "Spearitual Pursuit" Review
06/04/2022
We absolutely love our new 385OS. It is confidence inspiring in the open ocean, very comfortable at the dock, and a true new destination for our family. We are very happy with our dealer, Coastal Carolina Yacht Sales. Joe Toland has been wonderful to work with and is very responsive to any concerns. We look forward to many years of Pursuit ownership.
JUSTIN W.
Pursiit OS355
05/30/2023
We couldn't be happier with our Pursuit OS 355 purchase! What a versatile boat! We can't wait to experience all that she has to offer our family! So far we have fished about 6 times on it and even cruised to Cedar Point for the day! Plenty of power, fit and finish is spectacular, and extremely aesthetically pleasing! Love the gray upholstery vs the previous tan! That, in itself, really modernized the boat! Would recommend looking at a 355 if you are in the Great Lakes
MATTHEW M.
Great Boat!
09/20/2021
We are very happy with our Pursuit. the boat looks great, it's practical, and very easy to operate.
ORIAN D.
Love every minute of our 325 OS
07/15/2023
A perfect combination of family friendly amenities and fishing features. Family overnights to offshore fishing, I haven't found anything it can't do.
Chris F.
2023 OS325 is a Very Nice Boat
10/19/2022
Our new 2023 OS325 has the quality and style we expected when when we ordered it. Our previous Pursuit answered the mail on everything so we bought this one to replace it.
William R.
PURSUIT PERFECTION
01/24/2023
Have owned three Pursuit boats and this boat has exceeded my expectations. My wife has not been a person who enjoyed boating so much in the past due to the other Pursuit boats being center-console types with no protection. She now enjoys trips on this boat with all the protection and amenities. Our family and friends love to cruise around with us on the weekends and make stops along the way at restaurants & anchor up at sandbars enjoying the comforts of this boat.
GERALD P.
325 OS
02/05/2023
I just got this boat and it rides like a dream. It handles wind and waves extremely well. We went for a cruise yesterday with cold and wind and felt so comfortable. My wife and I both realized that this opens so many more opportunities to enjoy our boating and fishing.
VINCE F.
Previous
Next
COME SEE YOUR NEXT PURSUIT OFFSHORE BOAT!
Contact your factory authorized Pursuit dealer.
Find Your Dealer!